AKC introduces Advanced Levels of Recognition for Breeder of Merit
Program Overview:
The Advanced Levels of Recognition for Breeders of Merit were introduced to recognize those breeders that have achieved great success in their breeding programs producing dogs that have excelled in AKC competitions in their owner's chosen AKC sports. It is a tribute to breeders that not only can produce dogs that can win, but can place those dogs in the appropriate homes where they can reach their potential.

Breeders are encouraged to introduce and mentor new owners in the multitude of opportunities that AKC dog sports offer for them to enjoy with their new dog. Bringing new people to the sport on any level strengthens our community and helps ensure continuity of our breeds and breeders into the future. Arming new owners with information on the various event offerings and clubs in their local area just might entice a new owner to become a new exhibitor. How many of us started on the path of training/showing with a dog that was purchased with the sole intent of being only a house pet?

Recognition
In addition to all the benefits of the Breeder of Merit program, the Advanced Levels of Recognition will be displayed on the Registration Certificates and the Marketplace listings as the BOM recognition is now. Breeders will receive a new Breeder of Merit recognition certificate on approval of the new level application.

Requirements
Advanced Levels of Recognition will require an additional application and will also be recognized on a breed specific basis.
Recognition is available to those that meet the following minimum standards:
Have qualified and enrolled as a Breeder of Merit
Can provide proof of Parent Club required health testing on parents of litters
Have met their commitment to ensure that all their puppies get registered
Breeders who have produced a number of titled dogs will be recognized at the following levels:
Recognition Level

Required titles on dogs bred/co-bred*

Breeder of Merit

(Current)

Minimum of 4 dogs earning titles

Breeder of Merit Bronze

Minimum of 10 dogs earning titles with at least 5 earning prefix titles.

Breeder of Merit-Silver

Minimum of 25 dogs earning titles with a minimum of 15 being prefix titles.

Breeder of Merit- Gold

Minimum of 50 dogs earning titles with a minimum of 30 dogs having earned prefix titles.

Breeder of Merit –Platinum

Minimum of 100 dogs earning titles with a minimum of 60 having earned prefix titles
* AKC event titles only. Titles that require you to submit an application to apply to the dog's record are still not counted
Both prefix (Champion titles in all venues) and suffix titles recognize titles in AKC Conformation, Companion, and Performance events.
The application will ask for proof of testing for the sire and dam for the last 3 litters registered after being enrolled in the Breeder of Merit program. The health testing standards that will be used are those listed on the Marketplace for each breed. To find the health tests go to Marketplace.akc.org and find your breed. Then select the "Health" tab to view the test. These tests were provided by the parent clubs and are the tests that will be expected by individuals looking at your litters on Marketplace. Copies of test results or OFA.org listings will be accepted.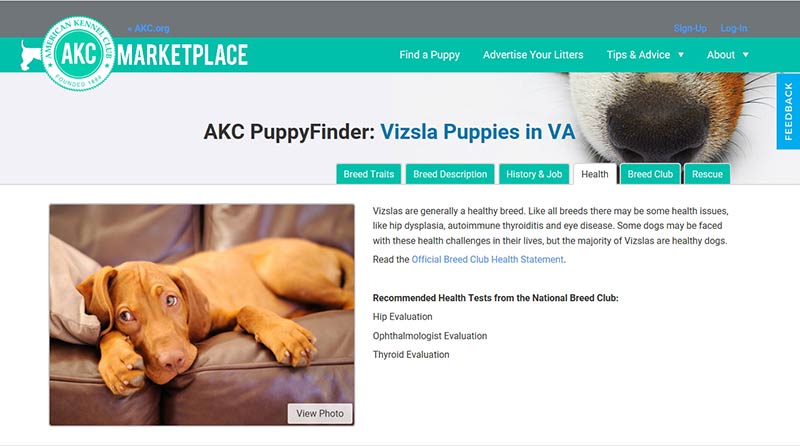 Statistics will also be reviewed for your last three litters while in the program for 100% registration compliance. To view your litter registrations you can view the registered puppies in your MyAKC account or use the link in the emails sent after you register a litter. If you bookmark the "View your litters" link in the email, it is your personal litter statistics portal. If you need this link, you can request it from Breederofmerit@akc.org.
Discounted Titles Report offered for Breeders of Merit
If you are curious about the number of titled dogs that you have bred; the Breeder of Merit department will offer the Titles Bred Report to Breeders of Merit at a 50% discount ($75). A report request must be received in writing (email or letter) that includes all the name and location variations that the breeder may have registered litters under to ensure the report is as complete and accurate as possible. An order form will be provided on the Breeder of Merit pages on AKC.org when the new Advanced Recognition program goes live in October.