As Isaac Newton and Bernard of Chartres noted, we have seen farther by standing on the shoulders of giants. Those who have come before us as breeders, fanciers, and stewards of the breed we love are the ones we owe a debt of gratitude to as we aspire to new heights and goals.
Do you remember the first person to teach you in dogs? Hopefully we are still learning as techniques change and develop over the years. Will you "pay it forward" as new folks come in? How can we honor the ones who helped us?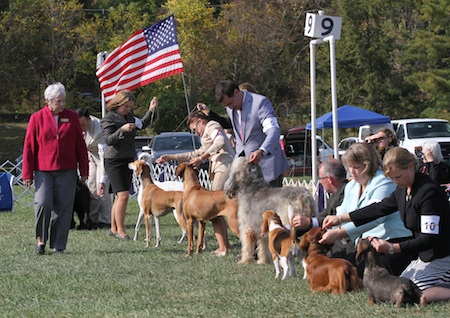 I have been fortunate to have some great dog people help me learn the ropes, and sadly, some have passed. What is their legacy, if not in their dogs? Passing the torch of knowledge helps one to burn more brightly.
Even though times have changed from the days of large kennels and "snail mail" to having cooperative hobby breeders communicating via the Internet, the focus of sharing bloodlines and information has not faltered.
I do believe the spirit of sharing knowledge remains the same, and yet something is missing. The conscious decision to accept and respect what has come before can be difficult at best for some.
I choose to embrace it, whether it be an old training technique that has since been replaced, a breeding decision that happened long ago, or a judgment that I had no control over. Any of these things can teach me if I let it, and each shapes the reality that is today.
These dogs we love, every dog sitting at our feet, is a result of multiple breeding decisions—some may be yours, while others belong to the breeders of the past. It is selfish to deny the value of what went into our "foundations."
Mentors and friends aid our growth in dogs, and ultimately we find ourselves facing difficult questions and situations. The better armed we are with knowledge, the better breeding and placement decisions we can make. That knowledge may take on various forms: health testing and sharing, pedigree analysis, or a comparison of the virtues and weaknesses of dogs past and present.
Are you prepared not only to take on that knowledge, to seek it out and cultivate it, but also to share it for the future?
We must really consider where we have been in order to see where we are and where we are going. Trends in dogs are apparent across the rings, but remember to give credit where credit is due—your dogs came from others, and it is part of the journey. We owe it to many who have helped shape our breed as we know and love it, and join those ranks ourselves.
—Shannon Rodgers, Field Spaniel Society of America; July 2015 AKC Gazette