Longtime dog show judge Anna Katherine Nicholas shared her remembrance of the heyday of the prestigious Morris & Essex Kennel Club dog show with the AKC Gazette in September 2000. Read Part One here and Part Two here.
The first Morris and Essex Kennel Club dog show, held in 1927, had 595 dogs entered. By 1929 the entries had exceeded 1,000. The 2,000 mark was passed in 1933, when entries totaled 2,346.
By 1935 the show entry had jumped to 3,175, followed by 3,751 the next year. The 4,000-dog mark was exceeded in 1937, with 4,104 entries. The largest-ever show was in 1939, when 4,456 dogs were entered. [Ed. note: This would be surpassed by the 2015 M&E show entry of 4,666.]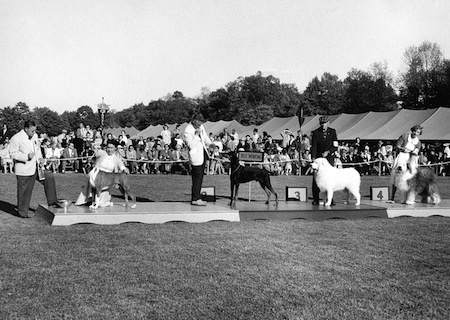 Judging of the Sporting Group at Morris & Essex in 1939.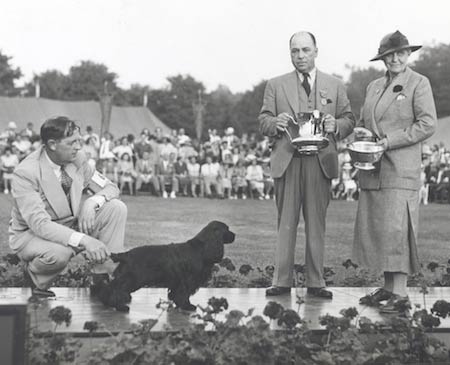 Best in Show in 1939 would go to the great Cocker Spaniel Ch. My Own Brucie, shown with breeder-owner-handler Herman E. Mellenthin, judge William H. Pym, and the show's grand hostess Mrs. Geraldine Rockefeller Dodge. Brucie would go on to win consecutive Bests in Show at the Garden in 1940 and '41.
Photos courtesy Morris & Essex Kennel Club
The last prewar show, in 1942, still brought out an amazing — especially considering world conditions — 3,883 dogs!
When Morris and Essex resumed activity at the close of World War II, the entry dropped back to 2,086. The largest postwar Morris and Essex show, in 1952, featured 2,851 dogs.
It should be remembered, of course, that many of these entries were deliberately limited.
Select Breeds Were Invited
As had been the custom at Morris and Essex since the beginning, in some years participation by a breed was by invitation only, with Mrs. Dodge and her show committee making the decision regarding which would be the honored breeds to be included.
For example, at the first Morris and Essex, fewer than 20 breeds received bids to participate. Included were Pointers, Cocker Spaniels, English Springer Spaniels, Collies, Doberman Pinschers, German Shepherd Dogs, Old English Sheepdogs, Chow Chows, Standard Schnauzers, and Irish, Gordon, and English setters, as well as Airedales, Bedlingtons, and Scottish, Boston, and Smooth and Wire Fox terriers.
Gradual additions were made to the lineup, until by the late 1930s Morris and Essex achieved all-breed classification.
Immediately following World War II, the number of breeds invited was sharply reduced and then gradually added to until, for its final five years, the show again had all-breed status.
The first Best in Show went to the Irish Setter Ch. Higgins Red Pat, owned by William W. Higgins. At the 1957 show, it was miniature Poodle Ch. Fircot L'Ballerine of Maryland, owned by Mr. and Mrs. Saunders L. Meade and shown by Ruth Burnette Sayres, who took the honor.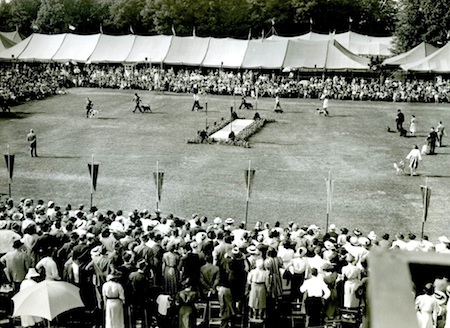 Morris & Essex, 1956: Judge L. S. Worden awards placements in the Working Group: First, the Boxer Ch. Barrage of Quality Hill, handled by Jane Kamp; second, the Doberman Pinscher Ch. Storm's Pogo Nip of Kia Ora; third, the Great Pyrenees Ch. Quibbletown Mistigris; and fourth, the Old English Sheepdog Ch. Merriedip Duke George. (The herding breeds were still part of the AKC Working Group at the time.) With the Pyr is handler Charlie Meyer, who on the same day handled both Afghan Hound Ch. Majara Menelek and Dalmatian Ch. Roadcoach Roadster to group wins. He would go on to win Best in Show with the Dal.
On June 2, 1947, before the popularity of toy breeds had risen to a level even approaching its present heights, Mrs. Dodge wrote to me:
"We were very pleased that the entry increased 20 percent over last year. We were beginning to feel rather discouraged at the support of the Toy people, and as we want to confine our show to a limited number of breeds, we feel that we should give preference to the most popular ones. It is indeed strange how fashions do prevail even in dog breeds, and often go absolutely opposite to what one would anticipate. I thought with the war years that the larger breeds would decrease materially, but quite the opposite has been the case, and it is the smaller breeds that seem to have suffered more than the others."
In a great many cases, parent clubs considered the Morris & Essex classes in their breed to be their specialties. For where could one possibly find circumstances so delightful, convenient, and exciting at which to stage them? Or a more generous and willing heart than Mrs. Dodge's?
Mrs. Dodge: A Lifelong Passion for Dogs
During her lifetime, Mrs. Dodge owned more than 80 breeds. She is typically associated with German Shepherds, English Cocker Spaniels (about which she wrote a fantastic book), Pointers, Dobermans, Bloodhounds, and Beagles. After Halley's retirement, Edwin A. Sayres, Jr., took over as Mrs. Dodge's kennel manager and dog handler.
Sayres was a dog man with a famous background, being the son of that most knowledgeable terrierman, Kerry and Irish terrier breeder Ed "Pop" Sayres, and brother of Dr. Joseph Sayres, an Irish Terrier breeder and judge, and Henry J. Sayres, who made history with many dogs, especially terriers, during the 1940s and '50s. Eddie took charge of St. Hubert's Giralda, the animal shelter that Mrs. Dodge had established on six acres of her estate, as its director.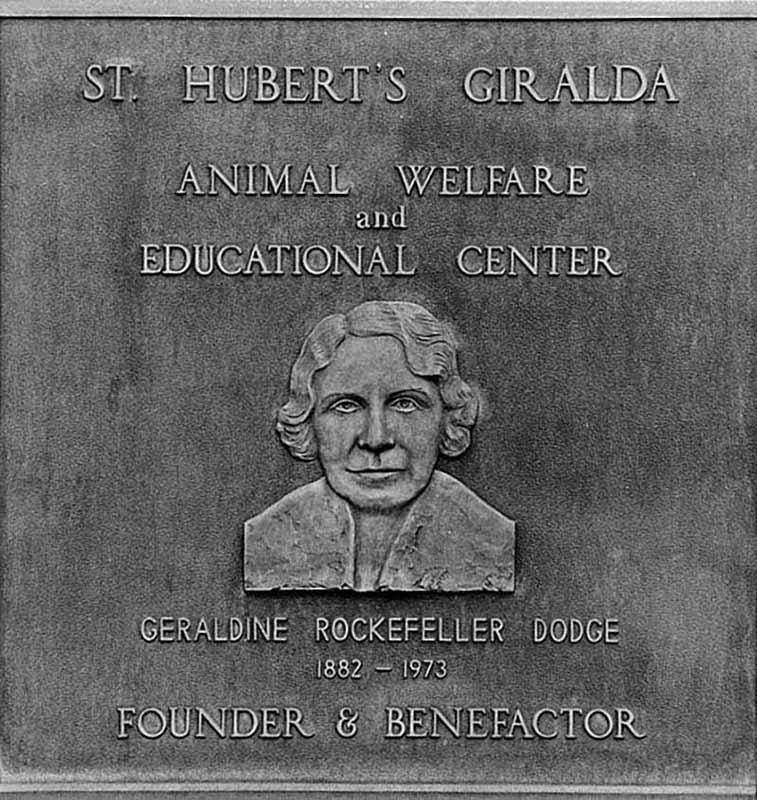 In 1939 Mrs. Dodge founded St. Hubert's Giralda, an animal shelter and adoption center. When the shelter had a surplus of dogs, Mrs. Dodge was prone to visit, taking home an elderly stray with little hope of placement to live out his life in the luxury of her estate. Now St. Hubert's Animal Welfare Center, it continues to serve the local community with a wide variety of programs that nurture the human-animal bond, including obedience training classes, a pet-therapy program, and humane education.
Over the years, Mrs. Dodge collected a large number of paintings, bronzes (which she especially loved), and other works of art depicting dogs. Following her death, many of these works were sold through Sotheby's Parke-Bernet Gallery. They are treasured by fanciers who were fortunate enough to be able to purchase some of their favorites.
The prices went sky-high, as along with their inherent value the works of art were almost priceless to the fanciers who personally knew Mrs. Dodge, who loved and remembered Morris & Essex, and who remembered fondly the dog show world as it was when Mrs. Dodge — and Morris & Essex — were an integral part of it.
A Lasting Influence
To be sure, Mrs. Dodge's influence on the sport spread beyond her show. Her knowledge and integrity made her widely sought after as a judge at events all over the country. She was the first woman to judge Best in Show at Westminster. She also won Best in Show at Westminster twice, once with her Pointer Ch. Nancolleth Markable of Giralda, and once with her Doberman Ch. Ferry Von Rauhfelsen of Giralda. Like her dogs, Mrs. Dodge, and the show she was synonymous with, were in a class of their own. —Anna Katherine Nicholas, from the September 2000 AKC Gazette
Anna Katherine Nicholas was an AKC dog show judge from Danbury, Connecticut, and the author of numerous dog books. She judged at three Morris and Essex shows.
For information on the 2015 Morris & Essex Kennel Club dog show and more about the club's fascinating history, visit the Morris & Essex website.